Grilling Class Registration
Fine's Gas & Fine's Hearth & Patio
Spring Grilling Class Registration Form

This Spring Fine's Gas & Fine's Hearth & Patio has teamed up with Chef Jernard Wells to teach you how to improve your outdoor cooking experience. Chef Wells is the author of the Amazon's best-selling cookbook 88 Ways to Her Heart and is one of the most entertaining people you will ever meet. We will introduce a variety of cooking techniques on the Big Green Egg charcoal grill, Fire Magic Gas Grill and the American Outdoor Grill.
We're only accepting 20 participants for this class so please sign up soon online by clicking here. Hope to see you soon.
If you have questions please contact us
Date: TBA
Time: TBA
Location: Fine's Hearth & Patio
Address: 2777 Lafayette Road, Fort Oglethorpe, GA 30742
Price: $20.00 Per Person (All Food & Drinks Included) Plus get 10% off all grills and accessories.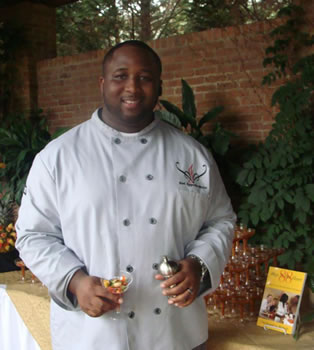 About Chef Jernard Wells, The Love Chef
With a great sense of humor, Chef Jernard has been called, "the young Barry White of food." Making Vast appearance's on The Food Network (Chef Wanted & Paula's Party) He is an author of an Amazon best-selling Cookbook 88 Ways to her heart. The book focuses on cooking demonstrations and helpful tips in the kitchen as well as terrific ways to start sparks in a new relationship or keep the sparks sizzling for those already in love. Chef Wells recently released two new books, The Weight of Expectations & Breakthrough which focuses on the expectations of life and achieving greatness spiritually and through healthy eating his new books are on track to hit the New York Times Best Seller List.
Chef Jernard is the winner & recipient of the Patrick Clark Honor 2010 Chef of the year of the USA, 2011 Travel Fiery Flame International Chef of the year, 2011 March of Dimes Signature Chef Gala Winner, ranked 14th in the World foods Championship and also an American Culinary federation member.
Chef Jernard's compelling and inspirational personal story:
Growing up in Mississippi, his father taught Chef Jernard how to maneuver through the kitchen before he passed away as a young child. To help support the family, Chef Jernard began cooking out of his family's kitchen when he was a junior in high school. It became immediately successful and within a couple of months, his fledgling business was bringing in thousands of dollars a month to help fund his culinary education. Chef Wells help launch two successful restaurants in the Memphis, TN metro area before moving to Ringgold, GA in the summer of 2007. On Father's Day, 2007, Chef Jernard and Barack Obama were two of the featured guest chefs at 20th anniversary celebration of the venerable Real Men Cook event in Chicago. Chef Jernard travels the US teaching couples the art of Love Cooking. He also teaches how to Grill the perfect steak & prepare healthy foods even for those with dietary needs mainly focusing on teaching people consistency on how to duplicate the same great taste and results over and over. Mr. Wells is a proud supporter of the non-for profit organization, First Things First, which teaches couples about love, cooking and working through marital issues & Jacks Chattanoogan which supports young children with cancer.
Other Accomplishments
Host chef for Senator Jeff Mullis at his "Top of Georgia" economic development event which was held to kick off new economic development opportunities in Georgia.
Supporter and sponsor of the Jr Miss Pageant held locally in Chattanooga. He sponsors one of the scholarships which are donated to one of the top three contestants.
Created a cooking show out of Direct Buy in Chattanooga called "Two Guys that Love to Cook" featured on ION
Performed on stage with Paula Deen in front of the largest audience in Chattanooga with over 15,000 live viewers
Cooked for the Premier and First Lady of Bermuda's at Bermuda's International Love Festival brunch on Valentine's Day of 2010 which was held in Bermuda
Tour cook for Tyler Perry and his team during their recent tour with his hit play Madea's Big Happy Family
Personally cooked for the rock band Lady Antebellum & The 70's Hit Band Heart.
Appeared on the Steve Harvey Morning Show representing Glory Foods and his unique style of cooking using their products.
Manufactures his own line of products under the trade name "Bon'appetite' Bistro & Heritage health Food. His motto is, "how could something so good be bottled up!" From Steak Sauce to Barbeque sauce & Exotic seasonings.
Recently merged with Heritage Health foods making the pledge to giving the world a healthier product with great taste at the same time all natural all fresh.
Has an All Beef All Steak Cookbook to be released this summer (For the Griller inside of us!)
Has a cooking school in Chattanooga, TN where he teach youth how to cook healthy elegant meals with simple ingredients from there pantry while offering wisdom.