About BBQ Grills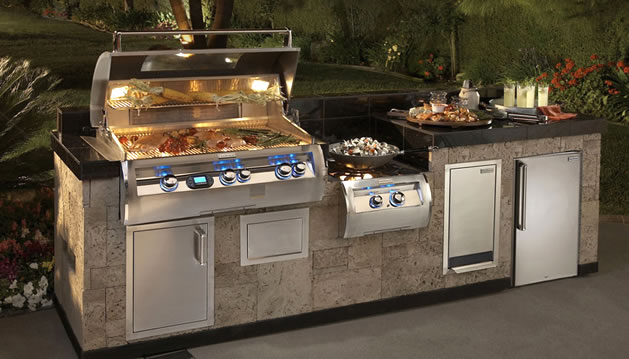 Quite simply, there are barbecue grills for every need, budget and lifestyle
Finding a grill for your outdoor kitchen that is just right for you. Here are some questions to help guide you:
What type of fuel will I use? Grills should be selected based on the type of fuel they use: such as propane, natural gas (a permanently-fixed grill hooked up to your home's natural gas supply), charcoal, electricity, or even pellet fuel such as corn.
What size will I need? Grills are measured in square inches of cooking surface. Knowing whether you will be cooking for yourself, your family or entertaining guests will help you decide how big your grill needs to be.
What features do I want? Are you a gourmet back yard chef or just a basic hotdogs and hamburgers type of griller? Grills today come with all sorts of useful options A specialty retailer like Fines Gas can educate you about these options. 877-615-1151
What's my type? Today grills don't have to be flat black. Many manufacturers are listening to consumer demands for interesting design including bold stainless steel, colors, and many styles ranging from traditional, modern and even rustic.
What's my budget? Whatever your budget, there is a grill for you. Basic backyard grills can sell for as little as $50 while top-of-the-line gourmet grills can sell for $6,000 or more. Remember you get what you pay for.
Where will I shop? Grills can be purchased almost anywhere these days: specialty retailers, mass merchants, home centers, hardware stores, grocery stores and even department stores. However, for the most individualized service, visit a specialty retailer for the better quality and service.
Where will I use my grill? Will you be using your grill on a small balcony? On your patio? In your custom-designed outdoor kitchen? Today grills are specially designed for specific areas ranging from small apartments and condos to fully-equipped outdoor kitchens.
---
See some our most popular BBQ grill units listed below: