Broilmaster Gas Grill Features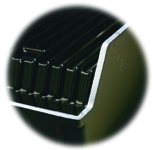 Broilmaster Grills offers a thicker uniform aluminum body castings retain heat and are covered by a limited lifetime warranty.
---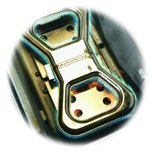 The Broilmaster stainless steel bowtie burner utilizes a patented flame pattern to ensure even heat distribution. Separate left and right side controls allow direct broiling or indirect baking. Covered by a limited lifetime warranty from Broilmaster.
---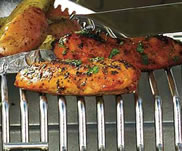 Extra-Heavy stainless steel rod cooking grids from Broilmaster provide a non-stick surface to sear meat better than cheap wire grids. Two separate grids adjust to two heights, allowing you to cook rare, medium and well-done at the same time. Carry a limited lifetime warranty.
---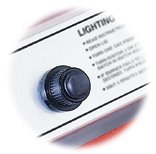 Push-Button electronic igniter with redesigned collector box ensures reliable, matchless ignition by maintaining a continuous spark.
---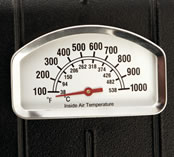 The Broilmaster grill built-in heat indicator takes the guesswork out of monitoring cooking.
---
Only with a Broilmaster Gas Grill you will find a built-in adjustable lid stop that allows slow, even cooking. Wind-Shield (not shown) minimizes flame blowout even on lowest settings.
---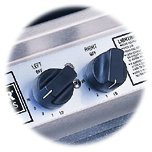 Dual-Control knobs allow infinite heat settings between "high" and "low" to control grill temperature on either side of the grilling surface.
---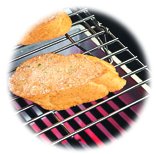 The new Broilmaster stainless steel retractable warming rack increases cooking area up to 50% for grilling, baking or warming. Covered by a limited lifetime warranty.
---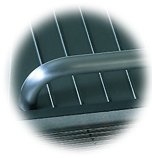 Stainless steel handle provide a sturdy, corrosion-resistant hold. A heat-protective grasping sleeve is included (not shown). Covered by a limited lifetime warranty.
---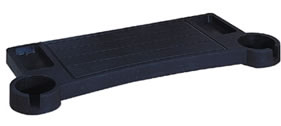 Front shelf with cup holders on each side and can be folded down while not in use.
---

Broilmaster side shelves are offered in composite material or stainless steel.
---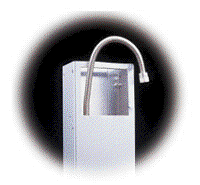 Stainless Steel Flex Connection for all posts allows for an easy gas connection to the grill
---