Why Do My Ventless Gas Logs Have An Odor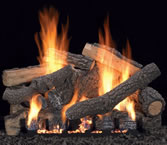 If you're getting a true propane or natural gas odor from gas logs or space heaters there's more than likely a very small gas leak that is causing the odor and that can be fixed by repairing the leak. If it is a gas leak inside the fireplace you should smell it all the time and not just when the logs are operating.

Most commonly folks mistake a gas leak with an airborne odor in the house that is being drawn into the gas log set as it operates. A vent-free appliance requires room air to operate and when the appliance draws room air in with any chemical base odor it will go through the burner and come out smelling like a petroleum based product. Most chemicals that are airborne in the room that go through the burner comes out smelling like kerosene. Vent-free gas log will not produce an odor unless the air it takes in has an odor.

There are many products that will cause the appliance to smell and below are just a few. If you think the odor could possibly be coming from an airborne odor eliminate what you think is causing the odor and let the air settle for a hour or so and try burning the log set again. Also if there is any dust that has settled on the unit you will need to vacuum it off but make sure you don't misplace any of the logs on the burner when cleaning it.

Things that would make a vent-free gas appliance produce an odor.
Smoking in the house
New Paint
Recently Stained Wood
Scented Sprays
Cleaning Chemicals
Formaldehyde Coming From New Carpet, Drapes or Furniture
Scented Candles
Glade Plugins
Extreme Dust
Pet Hair
Improper Air and Fuel Mixture Due To Household Dust (needs to be serviced once a year)
Basically any impurities in the air the flame from the appliance processes it and puts it out as an odor
By John Fine