Why Our Gas Fire Pits Are Better Than Most
How They Operate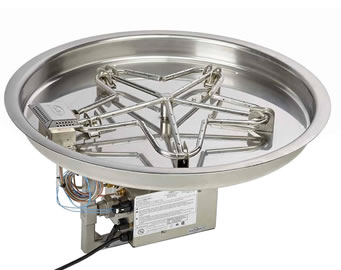 Our remote electronic control system for our gas fire pits are unlike any available. For ignition we use the technology of a low voltage hot wire coil that is very dependable in outdoor elements and resistant to moisture- it is certified for a minimum of 100,000 cycles (That's a lot!).

The flame sensing is accomplished through the use of a thermocouple, a device that has been reliably utilized for decades in all types of appliances using flame. The advantage to thermocouple sensing is its stability in unstable conditions such as the outdoors. The effects of wind or moisture are practically nothing due to the fact it is sensing heat thus having a much slower reaction to these elements resulting in stable operation- other manufactures use fast reacting which results in nuisance on & off cycling. The HWI pilot assembly is housed in a patented blowout box designed with adequate venting while protecting from elements. We also offer a Hassle Free Lifetime Warranty on all stainless steel fire ring burners.

All of this is monitored by a control module that is truly one-of-a-kind that cannot be found anywhere else in the world. You may find one that uses hot surface ignition or some form of coil and senses the flame unreliably with current, but to find a thermocouple communicating with an electronic module will not be found except on our gas fire pits. It is also worth mentioning our control module is the only module that is truly designed and CERTIFIED FOR OUTDOORS ONLY by CSA International to strict ANSI standards.
Safety
Fine's Gas number one priority is user safety. Our engineering group has gone to great lengths to accomplish this in conjunction with CSA International, the most recognized and respectable testing body in North America for the gas industry. We have the only fire pit insert certified at 400,000btu in the world. Our electronic ignition gas fire pits are certified for use in the United States and Canada.