&nbsp
&nbsp
&nbsp
&nbsp
&nbsp
Description
Apollo I Wall Mount Gas Lantern

20" L x 16" W x 14" D

Constructed from 16 oz. copper, with heavier reinforcements on frame and chimney.

Features strong, double-strength glass.

Made for use with either natural gas or propane gas.

Natural gas lantern uses 3,451 BTUs per hour.

Propane gas lantern uses 2,800 BTUs per hour.

Includes wall bracket for mounting.

Includes shut-off valve located at the base of the burner.

Standard lantern is designed to burn continuously.

Lantern with electronic ignition allows the lantern to be operated with the flip of a switch.

CSA certified to comply with ANSI Standard Z21.42 for indoor and outdoor use.

Indoor lanterns require electronic ignition option or automatic shutoff valve (sold below) to avoid gas leaks.

Copper will naturally patina with time, creating a weathered look.

Made in the USA.

Allow 4-6 weeks lead time.
Electronic Ignition Installation Tips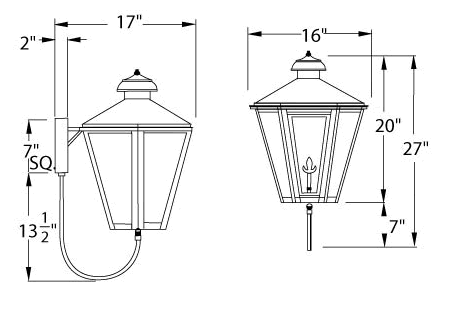 Product Information
Product Details
Model:

AO1-W

Product is [

Available

] with

3

Units in Stock
Manufactured by:

Legendary Lighting

Products Current Price: $

765

Products Normal Price: $765
Condition:

New

Category:

Wall Mount Gas Lights

Available at:

Fine's Gas

Average Delivery Lead Time:

5 days

Payments Accepted: American Express, PayPal, Visa, MasterCard, Discover