Turn a drab outdoor patio into an exciting outdoor living space that everyone can enjoy. You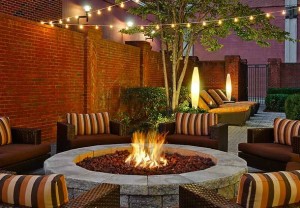 can make the most of your outdoor living area by extending your indoor living elements to the great outdoors. There are many simple and inexpensive ways to convert your outdoor patio into a fun and inviting area.
Focus on Comfort
One simple way to improve your outdoor area is to buy new outdoor furniture. If your old furniture is uncomfortable, outdated or worn, that may be the reason you don't like spending time on your patio. If you enjoy a good DIY project, you may consider simply refinishing your current outdoor furniture (with paint or wood stain depending on the material it's made of) and simply rearranging it to create an entirely new space.
Outdoor rugs may also add some aesthetic interest, while making the space appear cozier and more inviting.
Let There Be Light
You can also add some inexpensive lighting to your outdoor patio to make your space fun and useful even when it's dark outside. If you are looking for more permanent and ornate lighting, Fine's Gas has many outdoor gas lighting solutions, ranging from tiki torches to wall lights.
Add Foliage
Some simple lawn and gardening work can transform your drab patio into a spectacular outdoor living space. Spend a weekend planting new flowers and plants around your patio, and show your lawn some TLC. Improving the vegetation around your patio will create a healthier and richer environment for everyone to enjoy. New flowers and trees may also draw in birds and other wildlife, which can enhance the natural ambience of your outdoor space.
Build a Fire Pit
Building a fire pit is a great feature for any outdoor space. Having a fire pit in your patio creates a warm and cozy atmosphere where friends and family can gather around and enjoy each other's company. Fine's gas has several fire pits to fit any outdoor living space.
Turn It Into a Kitchen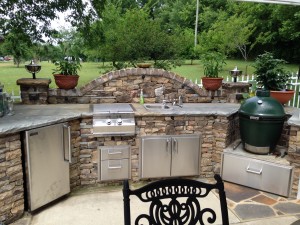 If you are looking to go all out with your outdoor living space, you may consider constructing an outdoor kitchen. Whether you'd prefer to purchase three-in-one outdoor kitchen island or to build a fully-custom outdoor kitchen, the staff at Fine's Gas can help. If you would like to learn more about our products and installation services, contact us!