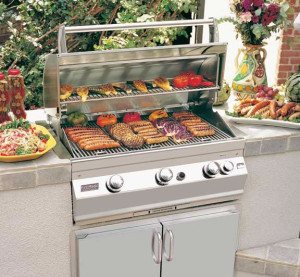 Buying a gas grill can be a difficult and confusing process unless you know what to look for. Most large retail outlet stores for home products have grills of average size ranging from $199.99 up to $1,000 or more. So what is the big difference between these grills and a gas grill from a specialty retailer?
After all, they have the same features and accessories. They have the same number of burners and the same BTU rating.

Take a Look Inside
All gas and charcoal grills are going to have a nice curb appeal. While curb appeal goes a long way, opening the lid and taking a look at the actual operation and cooking equipment, like cooking grids and burners, is important. If you see an all stainless steel gas grill, the equipment inside the grill is not necessarily stainless steel. Many basic stainless models will have a porcelain-coated steel lining inside the grill and will rust quickly.
Compare Cooking Grids
Look for stainless steel or cast iron cooking grids, and avoid porcelain cooking grids because the porcelain coating will wear off and the grid will begin to rust. Cast iron grids require a little more maintenance like seasoning and oiling, but they hold their heat and sear meat better than any other grids. Stainless steel grids are the easiest to maintain and will still make nice sear marks.
Compare Burners
Burners are the most important part of a grill, so take a magnet with you to see if the burners are made of steel. If a magnet will stick to the burner, do not expect it to last more than one season because they will rust quickly due to the heat, salts and grease. Stainless steel tube-style burners are used in the majority of grills, and they will last from 5 to 7 years if they are made from high quality 304 stainless steel. Cast iron burners must be made from high quality iron, but remember to clean the burner ports regularly because cast iron will rust, causing the port to prevent proper gas flow.
The best burners are cast steel burners found in Fire Magic grills and a few other brands, which are long-lasting and often covered with a warranty.
Compare the Flavor Grid
Sometimes called a rock rack, lava coals, flamer tamer, flavor grid or heat diffuser, this device is found between the burner and the cooking grids. This piece will suffer from the most wear and tear because of the high heat from the burners below and the salt and grease dripping from the food above. If the Flavor Grid is made from porcelain-coated steel, do not expect it to last more than a year. Instead, look for high quality thick stainless steel with at least a 2 year warranty.

Look For Warranties & Signs of Quality
Great grills are worth the money you invest in them. Look for products with 10 year or lifetime warranties on the grilling equipment. Also, many quality gas grills are made in the United States, which means you will have better access to service and replacement parts. There is nothing worse than needing a simple replacement part and finding out that the manufacturer has discontinued that part or model.

Cost or Price?
Ultimately, a grill can be a great investment that can last decades with regular maintenance. At Fine's Gas, some of our customers have been using the same grill for over 25 years! While the price of a quality grill may be surprising on first glance, the overall cost of parts and service is usually cheaper and your grill will last longer.